"One of Us is Lying"
Written by Karen M. McManus
Review written by Diana Iozzia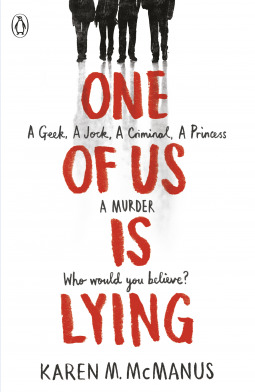 I read this book a couple of days ago, after finding a ruined, beat up copy with the red paint from the pages leaked out all over the cover. Needless to say, I wasn't bothered by the condition. I had heard some negative reviews of this book, and I was curious when I saw it severely inexpensive at a charity shop.
"One of Us Is Lying" follows four characters who are investigated after their classmate is poisoned in the detention in which they were all in attendance. All are suspects. Simon was the outsider. Bronwyn is the smart, but secretive student. Nate is the bad boy. Cooper is the baseball star. Addy is the pretty princess of the school. Who killed Simon?
This is a very obvious cut and dry young adult mystery in all of the Breakfast Club-soaked stereotypes. There's lots of timely jokes and mentions of popular social media. Tumblr, 4chan, Reddit forums, Instagram, and Facebook are full of curious insiders and intrigue into the mystery.
I read this in about three hours on an empty afternoon, and it didn't disappoint. There are some irritating bits about sexism and mental illness, but I got over them. You know, "Oh, the boys are more popular in the news, because people like boys more". Okay, whatever, sure. I guess the book has to appeal to some feminists too.
The ending was more surprising than I figured, but I figured the ending out right about the time that I think everyone else did. Some people I've read reviews by mentioned that they figured it off right off the hat. I felt that when reading "Murder on the Orient Express" in December, my entire focus was solving the murder, rather than soaking up the mystery. With this book, I just enjoyed it and had suspicions towards the killer, but I wasn't too worried about solving it myself. The ending is good, surprising, and necessary. As I mentioned, there are lots of story elements that fit in with the social climate nowadays, lots of political correctness and tropes of the past years, but I enjoyed it nonetheless. I enjoyed it more than I thought I would, but it was just a good YA mystery.