Review written by Diana Iozzia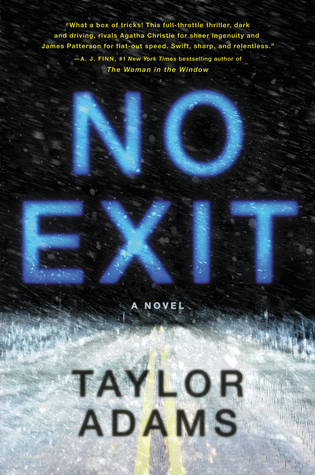 "No Exit" was a surprising thriller for me. I have not read a thriller in a while in which I felt my heart pounding and my eyes wanting to shut to hide from the horror. Let's begin.
Darby Thorne is a young woman driving home to see her mother who is very ill in the hospital. A major, dangerous snowstorm forces her to pull over, into a quiet rest stop, in which four other people are holed up: Susie, Ed, Lars, and Ashley. She feels apprehensive to all the people in the rest stop, but she tries to ignore her niggling suspicion. Outside in the parking lot, she notices that one of the trucks has a little girl kidnapped in the back. Darby kicks into super hero, action speed and decides she will fight to save this little girl, Jay.
Once Darby discovers who the kidnappers are out of those in the rest stop, she begins to fight for her life and Jay's. In many fantastic and cinematic action sequences, we see Darby protect herself and the others, while kicking some butt. She's tough physically, but she is also very clever. Now, she is a new role model for young adult women. Be like Darby.
I have to say, there are some gruesome, grotesque parts. Although this is an action-packed thriller, do not be surprised by the horrific parts. This book reminded me a bit of Stephen King's writing style, the loud and vivid and gross imagery. Do we need to know what everyone's breath smelled like? No. Do we find out? Yes. I read this all in one night. It was pretty dang good. I could imagine this as a fun suspense film, certainly helped by the great dialogue and vivid descriptions. I have to say, I would have hoped for more of a psychological thriller type mystery, but this action payoff was a breath of fresh air.
We are absolutely rooting for Darby and Jay at all costs. I have to say, I'd love to see more of Miss Darby Thorne. Cool gal.
I received this book as a complimentary advanced review copy for honest reviewing purposes. Thank you to William Morrow and Harper Collins.